. . . Vacation
DON'T
have to get away!
I love the Go Go's, they coo.
Anyway. I'm a little over half way through my first real
ADULT
vacation and it's been freakin' AWESOME! I really haven't done too much so far, but what I have done has been pretty cool.
Friday was the last "Summer Friday" at work so I went out with Vinny and Josh to Chuy's, like they do ever week, and sipped a Coke and chatted for about 3 hours and had some fun.
Saturday I had to take Carlos to work as usual, but on a "normal" Saturday, when I come home and crawl back into bed, I usually only allow myself a couple of hours to sleep because I've got so much to do before I got back to work the next Monday. But
this
week I woke up after a couple of hours and almost started panicing because I had a ton of stuff to do, but then I realized that I was on vacation so I had a whole 9 days to chill and do my stuff. So I went back to sleep. :) I did do other stuff that day, but honestly all I can remember is sleeping most of the day, and it was TOTALLY RAD!
Sunday I hung out at home doin' random stuff. Carlos was out all day with his boss doin' whatever it is that they do when they hangout together, and then Sunday night we met one of Carlos's
MySpace
friends named Kristen. She actually turned out to be really awesome and we made plans to hang out with her again soon.
I think it was Sunday night, or quite possibly Saturday night, that I finally sat down and started workin' on one of the long put off pitch paintings. I decided to paint this one in watercolor and gouache like I normally do, but I took this as an opportunity to actually delve into making a more complex water color background. As you may have noticed from some of the other paintings I've posted, I normally just do a watercolor wash background in a single color and that's it. this one is actually a full on environment. It's pretty awesome.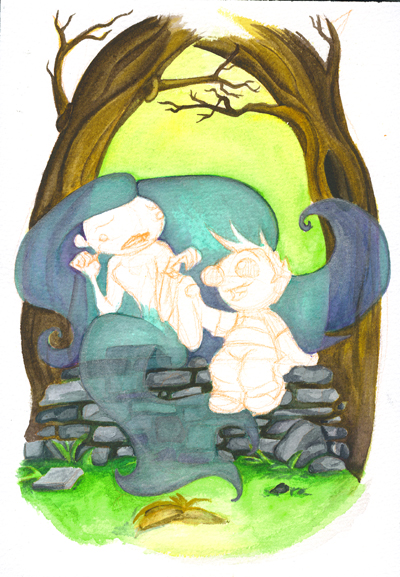 Monday I spent almost the entire day painting. It was pretty sweet. Carlos had to work Labor day, but it's all good. I drove out to Pasadena to the Art Store and picked up a few supplies for the painting (including gold and silver gouache) and then ran back to work some more. As you'll see when I post it, I'm also making one of the characters part water color because she's a ghost/banshee and I wanted her hair and "tail" to be transparent. I also threw a very thin wash of the silver gouache on top of the transparent parts to make them sparkel a little and must say I'm pretty happy with the results.
Tuesday was a little crazy. Carlos has been with out a car for a little over a week and I've been driving him, as I probably said in the last post, so he took the day off work to go to Disneyland with me and we had decided to take his car in that day as well. Well long story short, which was rapidly turning into a money pit to begin with, required more than a thousand dollars worth of work, and since he hates the damn thing anyway, he just decided it was time to trade his car in on something a little more dependable. Not to mention fashionable (I play, seriously). Anyway, we did a bit of quick internet research, and since we discovered that our first choice of a Prius was essentially out of our price range for the rest of our god given lives, we discovered that a Scion xB was actually perfect (in not only price, but style and the Carlos "want" factor). So we printed out some internet used cars from the web an headed to our nearest dealership (Toyota of North Hollywood) where they had a beautiful, black, 2005 that fit our budget perfectly. After about 3 hours we walked home with the beauty and got the curse-ed deamon car out of our lives. We may not have made it to Disneyland, but we now have the confidence that Carlos will have a trustworthy car to get him back and forth to work.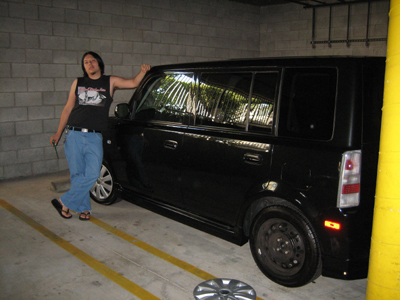 Wednesday was my homie Vinny's birthday, and in celebration, I convinced him to ditch work and go to Disneyland with me. It was so awesome! The park was totally dead and we walked onto
EVERY
ride. I think our longest wait the entire day was maybe 20 minutes at Indiana Jones. It was pretty freakin' sweet. I think Vin had fun and when we got back, and Carlos got home, the three of us went and hung out at Target for a while and then we introduced him to Civeche (this really awesome citrus-y fish tostada thing). It was a pretty cool day.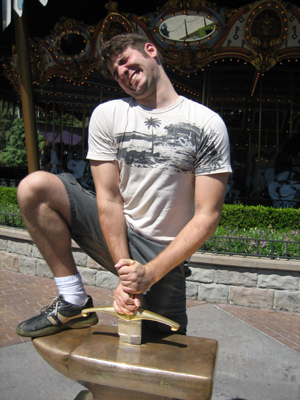 Which brings us to today. I was supposed to give my homie Sergio painting lessons today, but he had to back out because he made plans to do something far better for humanity. Really. He did. He's voluntarily donating bone marrow.
So far today, I've taken Carlos's new car back in to have his alarms installed on the Scion (they gave me a rental car, well, a rental minivan, so I'm playin' soccer mom today) and my goal is that before I go to sleep tonight I'm gonna have that pitch painting done. I'm also planning on (once the shop gets the Scion back to me) heading up to Meltdown to see what the hold up is with show I'm trying to put together. I figured that e-mail and phones are nice, but nothing gets answers better than shovin' your immediate person up in their faces. :D I like answers.
I'm excited cause tomorrow I get to go out to Moreno Valley to see my Uncle, whom I haven't seen in quite a while again. Saturday I'm gonna be pretty busy at night and Sunday, sadly my last vacation day, I'll probably be goin' back down to Disneyland.
Seriously, that pass was the smartest thing I think I've ever purchased in my life. :D So far, anyway.